13th National Educational Seminar Held In Odisha
Image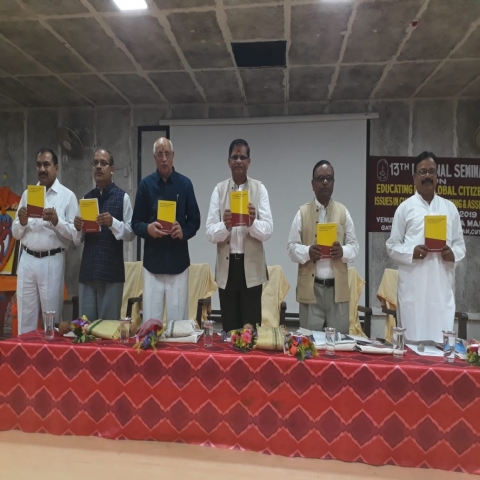 Image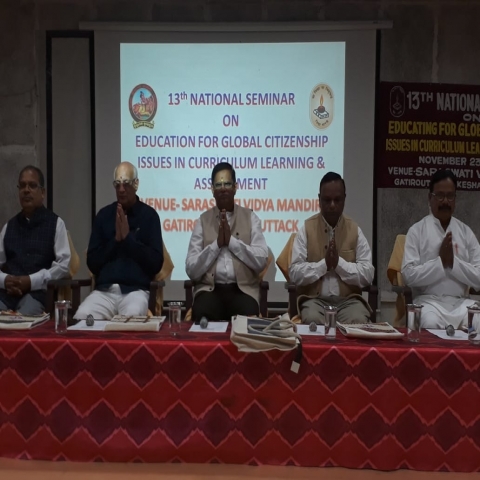 Image
13th National Educational Seminar Held In Odisha 
 
        The present century witnesses the prevalence of the complex weave of interconnected communities which demands to educate the coming generations for global citizenship to meet all its challenges. With a purpose of inculcating values, ethics, social responsibility, civic engagement among the global citizens and to enable them to face the global hazards for a sustainable peaceful & inclusive society, a two days National Seminar on "Educating for Global Citizenship: Issues in Curriculum, Learning, and Assessment" was organized by Shiksha Vikash Samiti, Odisha on 23rd & 24th November 2019 at Saraswati Vidya Mandir, Gatiroutpatna, Cuttack.

      The two days long seminar came to close with valedictory session chaired by Dr. Binayak Das, President, SVS, Odisha.  The guest introduction was given by Dr. Latika Mishra followed by the presentation of seminar report by Dr. T. Devi. The observation & opinions of the entire seminar proceedings was highlighted with great appreciation by Dr. Golak Bihari Giri, Rtd. Asso. Prof. of Delanga College, Puri, Dr. Ashok Mohanty, Principal, SVM, Damonjodi, Harish Kumar Pandey, Acharya, Jharkhand.
    Prof. P.C.Agarwal, Principal, RIE, Bhubaneswar as Hon'ble Guest in his valedictory address focused on major global challenges of human rights, pollution, inequality etc, and emphasized on unity in diversities in multi-cultural environment. Dr. Kanhare as Hon'ble speaker focused on the sustainable development goals in the global agenda. Dr. K.C.Mohanty as Hon'ble guest addressed the theoretical & practical implementation of global citizenship education of 21st. century. Dr. Binayak Das in his presidential address highlighted on Indian perspective of integrating the global citizenship education in present educational scenario. At the end of the valedictory session, certificates of participation & paper presentation were distributed by the guests and a formal vote of thanks was proposed by Dr. S.K.Hati, convener of the seminar.