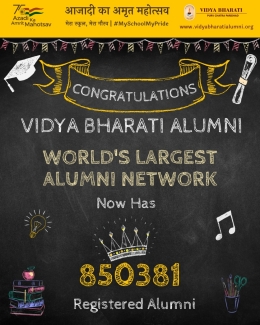 How effective an educational institution is, cannot be judged merely by its infrastructure or activities. The alumni are the true reflection of an institution . Vidya Bharati has identified this force and now Alumni Councils are being formed in every school. Some Alumni Forums at the state level have also emerged during the recent past.
Developing A Portal For Alumni
The work of the Vidya Bharati Alumni portal (Vidya Bharati Purv Chatra Network) started almost 1 year 6 months back. This online portal is a platform for all Vidya Bharati Purv Chatra to get connected with their schools, batch mates, teachers, and students. After successful registration, Purv Chatra can log in with their user name and password and get to know the various latest news, activities, and events of Vidya Bharati schools around India. Purv Chatra members from the portal can read or download various newsletters and publications which are being published on regular basis. Alumni can share photos, and updates, or even initiate some discussions in the portal. Through this platform, interactions will be possible between Alumni and Students for mentorship and career guidance; Alumni can support various schools and initiatives of Vidya Bharati both financially and non financially. Till April 2019, there are more than 6670 schools have registered in the portal. More than 75000 Alumni have joined the Alumni Network. More than 80000 students are part of the portal. Based on internal research we have found that Alumni who have registered, 28181 can be categorized under Student Community which means either they are doing graduation, post-graduation, higher studies, or yet to start any job. There are almost 6949 Alumni which can be categorized under the working community. Research work still going on day to day basis so the exact numbers we will get to know in the months to come. The working Alumni are from various professionals as per the research done till now. There are above 1581 teachers, 1164 doctors,101 business persons, 679 engineers, 227 government employees 148 IT professionals, 145 bankers, 84 lawyers & judges, 93 Indian Defense professionals, 85 police professionals, 7 9 chartered accountants, 37 Directors/CEOs/MD, 30 Indian Railway professionals, 169 farmers, 20 scientists, 10 Indian Civil Service professionals.
Vidya Bharati Alumni are not only located in India but around the world. Till now through the portal 312 NRI Alumni have been associated. 161 Alumni are from the US, 25 from Canada, 19 from the UK, 18 from Australia, and from various other countries such as Dubai, Germany, Italy, Malaysia, New Zealand, South Korea, South Africa, Singapore, UAE, and Denmark. A 10-member team has been formed in Kolkata that has been looking after the entire end-to-end operations - developing the portal, marketing the portal digitally, communicating with Alumni, talking with schools, and interacting with different stakeholders of Pranta and Kshetra.