Indian Regional Languages for Engineering
Image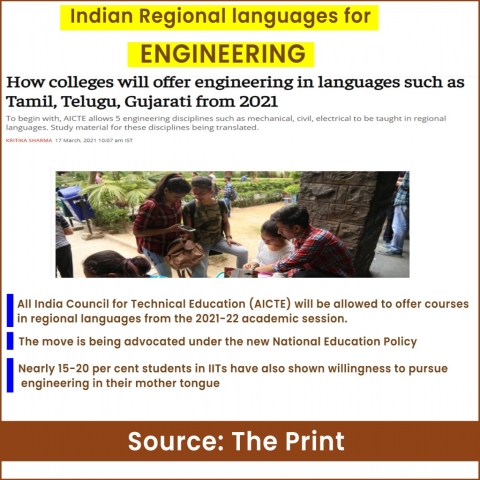 Image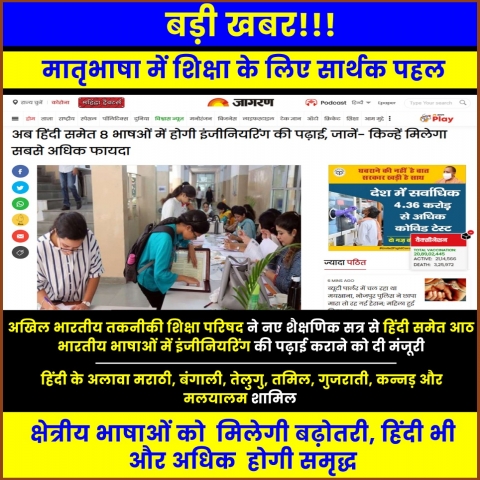 Image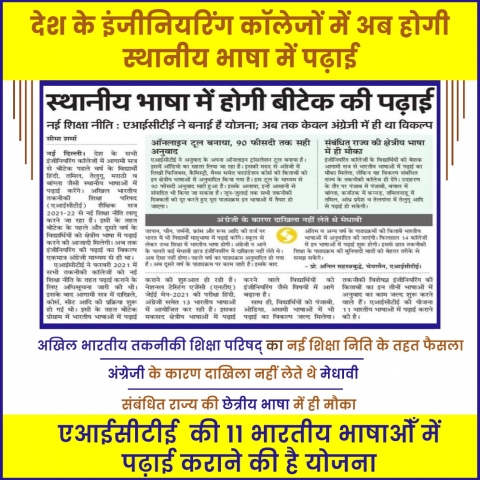 Image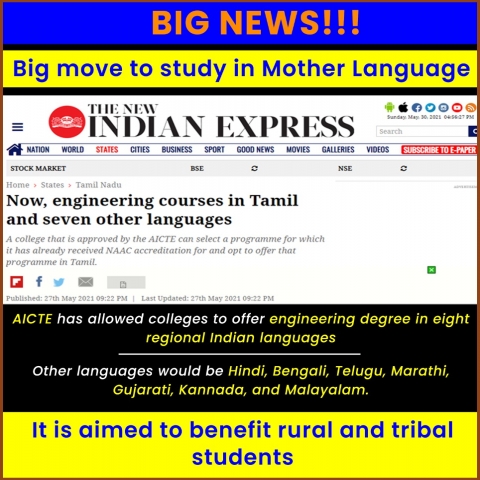 Indian Regional Languages for Engineering

Indian colleges will offer engineering in languages such as Tamil, Telugu, Gujarati from 2021

To begin with, AICTE allows 5 engineering disciplines such as mechanical, civil, electrical to be taught in regional languages. The study material for these disciplines is being translated.
Engineering colleges affiliated to the All India Council for Technical Education (AICTE) will be allowed to offer courses in regional languages from the 2021-22 academic session. The council has opened up the provision in its latest approval process, ThePrint has learnt.
The move is part of the Modi government's push to facilitate education in one's mother tongue, and is being advocated under the new National Education Policy. In November 2020, the Ministry of Education (MoE) had cleared a proposal, allowing colleges to offer engineering education in mother tongues.
Following this, two committees — one at the MoE level and the other by AICTE — were formed to look at the feasibility of the idea. The AICTE committee has already submitted its report to the ministry and given a green signal to the idea.
AICTE Chairman Anil Sahasrabudhe told ThePrint that colleges that are willing to offer engineering in regional languages can apply with the council and if they meet requirements, they will be granted approval to start the courses.
He added that nothing is being made mandatory and that the choice is with the colleges and the students. The council has for now started work on translating content in eight regional languages including Bengali, Gujarati, Hindi, Kannada, Malayalam, Marathi, Tamil and Telugu.
As reported by ThePrint earlier, the council had conducted a survey on 83,000 students in its affiliated colleges to check their willingness to opt for instruction in one's mother tongue. Nearly 44 per cent of them had shown interest.
While the AICTE committee has already submitted its report to the ministry, the other panel headed by the secretary (education) is still working on the issue.
On the basis of the MoE committee's report, a decision will be taken on offering the regional language option in Indian Institutes of Technology (IITs).
According to sources in the committee, nearly 15-20 per cent students in IITs have also shown willingness to pursue engineering in their mother tongue.