Vidya Bharati Alumni became part of the core team of Chandrayaan-3
Image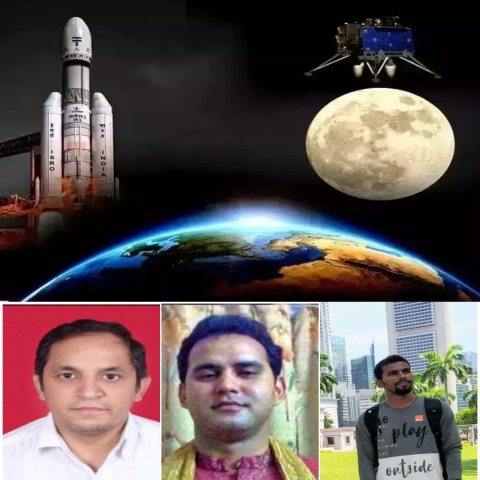 Image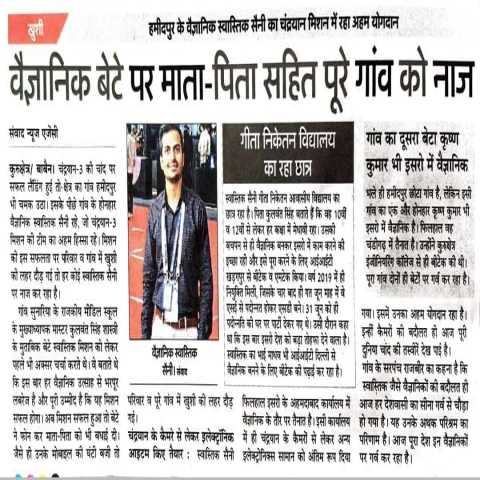 Vidya Bharati Alumni became part of the core team of Chandrayaan-3
Many Alumni including Atul Nigotia, Ankur Trigunayak, Vaibhav Upadhyay, and Sohan Yadav played an important role.
Jalaun / Bhilwara / Ranchi| The successful test of Chandrayaan-3 also involved two scientists from Jalaun in UP who were alumni of Saraswati Shishu Mandir. Principal of Saraswati Vidya Mandir Inter College Ramgopal Tripathi said that former students Atul Nigotia and Ankur Trigunayak have brought laurels to the school family, district and the state by being part of the lead team of Mission Chandrayaan-3. ISRO scientist Atul Nigotia passed high school in 1995 from Saraswati Vidya Mandir Inter College, Jhansi Road. Scientist Ankur Trigunayak passed his high school in the year 1996 from Saraswati Vidya Mandir Inter College Orai.
Vaibhav Upadhyay of Shahpura town of Bhilwara district of Rajasthan has also played an important role in the launching of Chandrayaan-3. Vaibhav has served as Project Manager and Multimeter design incharge.
Vaibhav did his early education at Adarsh Vidya Mandir Shahpura. Ranchi scientist Sohan Yadav is also involved in Mission Chandrayaan-3. He did his schooling from Saraswati Shishu Mandir. He is a resident of Tapkara village in the Torpa area of Ranchi. Sohan Yadav is involved in the Orbiter Integration and Testing team at ISRO. Sohan Yadav is also associated with Mission Gaganyaan. Sohan Yadav did his primary education at Shishu Mandir located in Tapkara.
Ranchi has a special role in the Chandrayaan-3 mission
Ranchi has played a special role in the launching of Chandrayaan-3. Its launching pad has been designed by Ranchi-based MECAN Institute, while the 84-meter-high launching pad was also constructed at Ranchi's HEC.