NCC Cadets Celebrate 73rd National Army Day
Image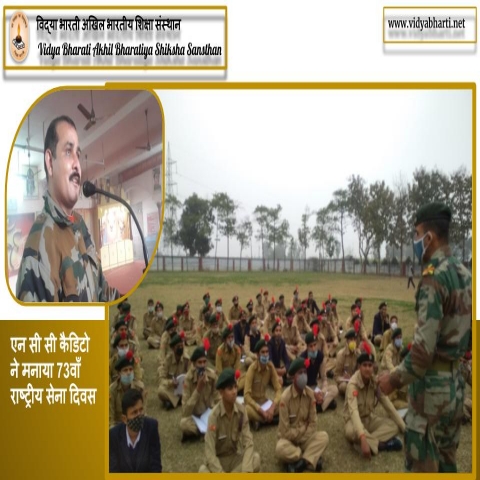 NCC Cadets 

Celebrate 73rd 

National Army Day
LALA JAGDISH PRASAD SARASWATI VIDYA MANDIR INTER COLLEGE, JANSATH ROAD, MUZAFFARNAGAR
* Cadets celebrated National Army Day at Lala Jagdish Prasad Saraswati Vidya Mandir Inter College, Jansath Road, Muzaffarnagar under the aegis of 82 UP Battalion NCC Muzaffarnagar and under the able guidance of Commanding Officer Colonel Jitendra Kumar Malik Sena Mandal and Adam Officer Colonel Bakul Gausai. *
 * NCC officer Raj Kamal Verma said that Army Day, also known as 'Indian Army Day', was celebrated on 15 January every year to salute and honor the bravery of the soldiers and soldiers of the Indian Army. It is because in 1949 Field Marshal Sir KM Cariappa took over the Indian Army from the British General Sir Francis Butcher. Field Marshal Kariyappa, the first officer in the Indian Army to hold the five-star rank, led his army in World War II and in the First Indo-Pak War of 1947. He was known for his bravery and ability. He said, "I am an Indian and will remain an Indian till my last breath." *
  Around 75 cadets of the Junior and Senior category, as well as 300 students, also participated on the occasion.
* On this occasion, the Principal of the school Shri Satish Upadhyay Ji said that 15 January is a festival celebrated across India for the 'Indian Army', in which the brave sons sacrificed their lives to protect the borders of the country. It's a day to pay tribute. *
On this occasion, all the teachers of the school were present.