Organization of state-level cultural festivals and Bauddhik (intellectual) competition
Image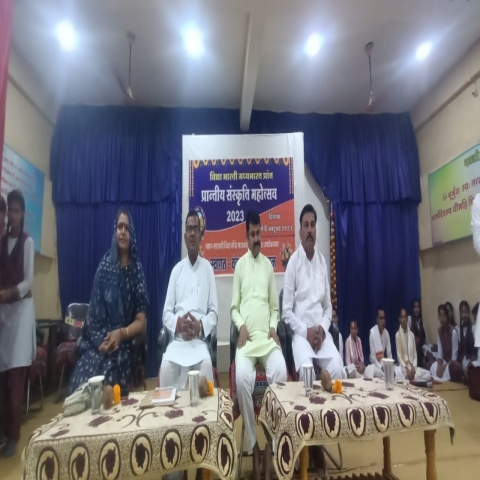 Madhya Bharat | According to the plan of Vidya Bharati Madhya Bharat Prant, Saraswati Shishu Mandir U.M. The state-level culture festival competition was inaugurated on 07 October in Ashoknagar Vidyalaya. In this competition, 450 participating students and 50 mentor teachers from Saraswati Shishu Mandir Vidyalaya from 16 districts of 05 departments of Vidya Bharati Madhya Bharat Prant (Shivpuri, Gwalior, Rajgarh, Bhopal, Narmadapuram) participated.
Culture Mahotsav includes theatre, initials, individual songs, essay competition, rangoli competition, painting, Gita recitation, solo bhajan, story-telling, extemporaneous speech, tabla playing, classical singing, classical dance, solo acting, sculpture, self-composed poetry, Vande Mataram, etc. 18 types of competitions were organized.
Chief guest Shrimati Rashmi Raghuvanshi, Priyakant Mathur, Jaimandal Yadav, Committee Treasurer, Vibhag Coordinator Gurucharan Gaur, teachers of Brahmadev Sharma Vidyalaya, participating students, etc. were present in the program. Addressing all the participants, the Chief Guest said in the inaugural session that only Vidya Bharati organizes such intellectual competitions all over Bharat. Through this type of cultural festival and intellectual competition, the aim is to connect the students with the Bharatiya culture, all the participants should display their respective genres with joy and not in the spirit of sports(Sportsmanship).