Tai Tagak honored with Krishna Chandra Gandhi Award
Image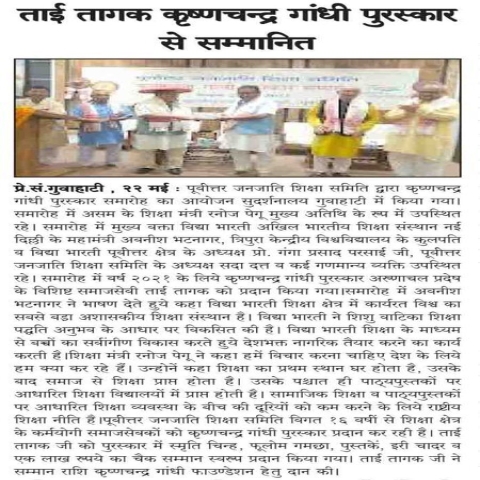 ताई तागक कृष्ण चन्द्र गाँधी अवार्ड से सम्मानित

Tai Tagak honored with Krishna Chandra Gandhi Award
Noted social worker-cum-advisor to CM Tai Tagak was conferred with the coveted Krishna Chandra Gandhi Award- 2021 by Purvottar Janajati Shiksha Samiti (PJSS), a Guwahati-based civil society organization working for promotion of quality education for tribal communities in the NE region.
Assam Education Minister Dr. Ranauj Pegu handed over the award to Tagak during a function at Guwahati on Sunday in the presence of several distinguished persons and special invitees. The award, carrying a citation and Rs one lakh cash, is conferred annually to persons from the NE region in recognition of their selfless contributions to the social and educational uplift of tribal communities of the NE.
The PJSS had instituted the award in 2007 in memory of the late Krishna Chandra Gandhi, who had pioneered to set up the largest number of schools for tribal students across the country under Vidya Bharati. He was also one of the founders of Saraswati Shishu Mandir Yojana as an alternate model for national education.
Tagak, one of the few persons of Arunachal Pradesh to start social services in the 1980s, has been the first reference and support for national organizations, like ABVP, AVP, Vidya Bharathi, Seva Bharati, and Sanskar Bharati, among others, committed to the cause of man-making and nation-building endeavors. The award befits Tagak, the 15th recipient and 3rd from Arunachal Pradesh, for his invaluable contributions to society.