A Fateful Moment in Bharatiya Education System – Launching of "JADUI PITARA"
Image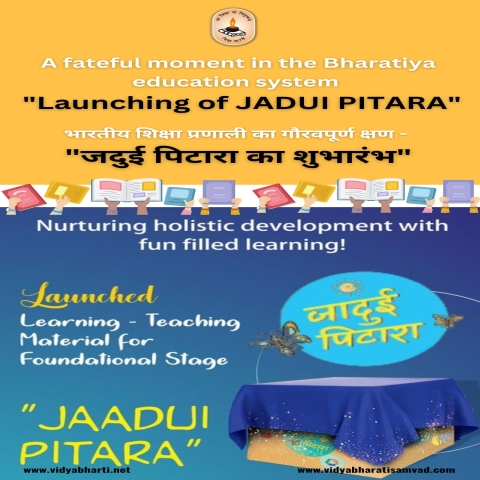 Image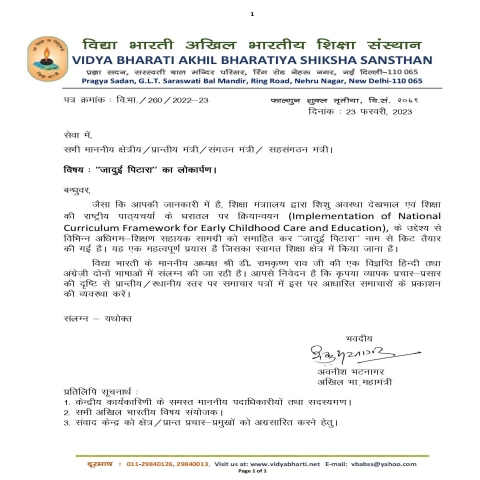 Image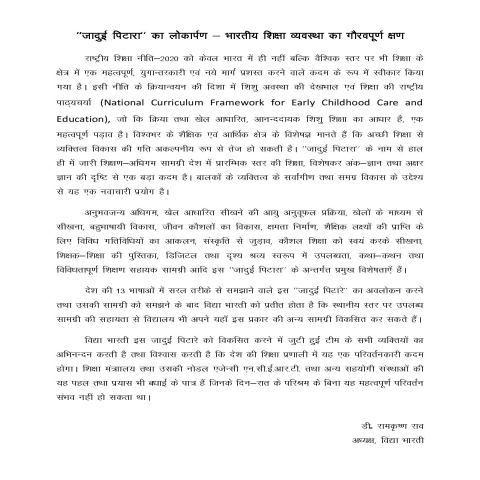 A fateful moment in Bharatiya education system - Launching of JADUI PITARA
Our NEP-20 is accepted as a path breaking, phenomenal and unprecedented educational policy not only at national but also at global level. NCFECCE is another milestone event heralding an important gesture in implementation of NEP in letter & spirit and put forward an actionable, play based, enjoyable and charming curriculum framework. As felt by top academicians and economic leaders of the world, the developmental process definitely accelerates at an unimaginable speed with good education. Now that launching of learning-teaching material for foundation stage by name "JADUI PITARA (Magic Box)" is a big leap for building foundational literacy & numeracy in our country. It is quite innovative enabling best educational practices striving for "Sarvangeena Vikasa (alround development) and Samagra Vikasa (holistic development) of a child.
Experiential learning, play based learning, age appropriateness, toy-based learning, multi-linguism, life-skills, competency-building, mapping with variety of curricular goals, cultural rootedness, re-imagining vocational education with hands on experience, teachers-training hand books, availability in digital form. audio & visual approach, story narration, availability of different learning materials are some of the distinct features of this charming, joyful learning-teaching material in the form of "Jadui Pitara".
After going through the contents and materials in this "box", which is being developed in 13 languages with simple, understandable language skills, Vidya Bharati feels that at local level schools can also prepare these boxes with available resources Vidya Bharati congratulates all the people who are involved in preparing this "Jadui Pitara" which is going to be a big game changer in the entire educational structure & organisation of our country. We also should not forget the ministry of education and nodal agency NCERT and other agencies for their initiative and efforts who have worked day and night to bring out this sweeping change.
-
D. Ramakrishna Rao 
President, Vidya Bharati