Geeta Vidyalaya-Kurukshetra Started "Free Water Service"
Image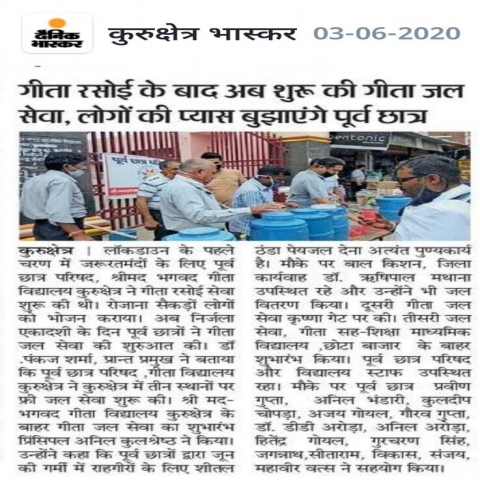 पूर्व छात्र परिषद, श्री मद भगवद गीता विद्यालय कुरुक्षेत्र ने की गीता जल सेवा की शुरुआत 
Alumni Council, Sri Mad Bhagwad Geeta Vidyalaya Kurukshetra started the Geeta Jal Seva
Dr Pankaj Sharma, Pramukh Head told that today, Alumni Council, Geeta Vidyalaya Kurukshetra started free water service at 3 places in Kurukshetra.
Outside Shri Madbhagavad Geeta Vidyalaya Kurukshetra, the Gita Jal Seva was inaugurated by Principal Shri Anil Kulshreshtha and it is extremely virtuous for alumni to give cold and cold drinking water to passers-by in the heat of June.

Sri Bal Kishan Ji (Co-Organizational Minister, North Zone), District Acting Dr Rishipal Mathana graciously attended and also distributed water.
 Second Geeta Jal Seva also distributed banana Pradesh towards Krishna Gate. The third Jal Seva, Geeta Co-education Secondary School, launched outside Chota Bazar Kurukshetra, the Alumni Council and the school staff were present.
Dr Pankaj Sharma said that clean, serene, cool, sweet water was given and bananas were given everywhere.
Alumnus  Ashok Rosha said that the Free Geeta Water Service will continue in the month of June and social distance, mask and water distribution are being done as per the instructions of the government.