Guru Ravidas Jayanti 2023
Image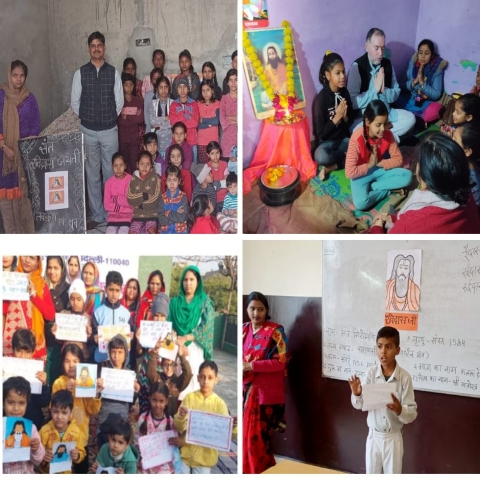 Image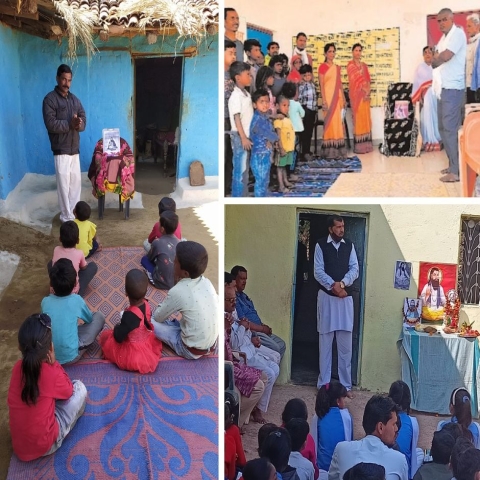 Guru Ravidas Jayanti 2023
Rituals and Celebrations By Sewa Shiksha Vibhag (Sanskar-Kendra) 
Delhi | Sant Ravidas Jayanti celebrations were organized on 4 February 2023 by the students of the Sanskar Kendras of Delhi prant and the parents of the township. This year, the programs of Sant Ravidas Jayanti were performed by 69 Sanskar-Kendras, including 513 boys, 818 girls, and 376 parents. So, the total number was 1707. In this, 8 alumni were contacted at the railway crossing Azadpur Basti of Mahendra Enclave School and 25 families were contacted at Priyanka Camp Basti of Vasant Vihar Vidyalaya.
Sant Ravidas Jayanti is Celebrated in Poshak Villages and Poshak Wards
Sagar | The birth anniversary of Sant Ravidas was celebrated in Poshak villages and Poshak wards by making groups by the Acharyas of Saraswati Shishu Mandir Pagara Marg Sagar. Sant Ravidas Jayanti was also celebrated in the Village Pagara, Village Biharipura, Village Prithvipura, Village Patharia Haat, Village Patan, Village Jarara and Ramnagar ward, Shardanagar, Subhashnagar and Shastri wards. Narayan Prasad Kabir Panthi and Principal Praveen Joshi laid a wreath with the Acharya family by worshiping in front of the picture of Sant Ravidas in village Bhainsa. Chief guest Kabir Panthi said that the life of Sant Ravidas is inspiring and exemplary for all. Sant Ravidas woke up the sense of harmony by explaining ' Manchanga To Kthoti Me Ganga'.