VB Alumni helping School Staff
Image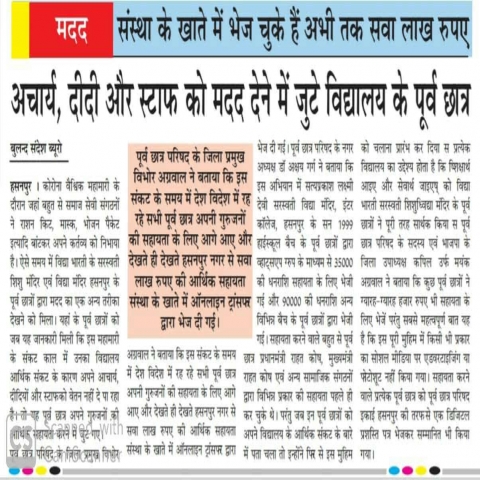 Image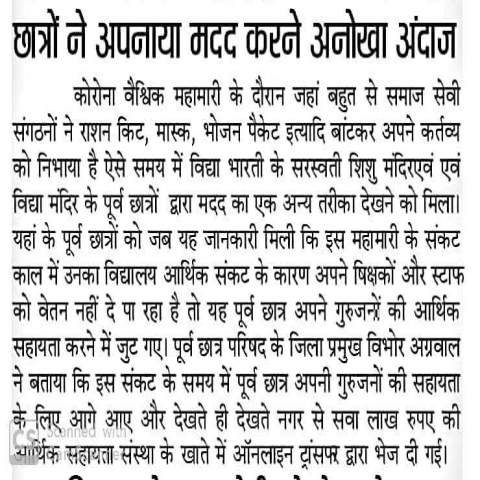 VB Alumni of the school engaged in helping School Staff
                During the corona global epidemic where many social service organizations have done their duty by distributing ration kits, masks, food packets, etc., another way to help is seen by alumni of Saraswati Shishu Mandir and Vidya Mandir Hasanpur of Vidya Bharati. Vidya Bharati alumni here came to know that their school is not able to pay salaries to their teachers and staff due to the financial crisis in the crisis of this epidemic, these alumni started to help their gurus financially. All the alumni living abroad came forward and Rs 1.25 lakh online transferred.
              Vidya Bharati  Alumni Council's city president Dr Akshay Garg informed that in this campaign Satyaprakash Lakshmi Devi Saraswati Vidya Mandir, Inter College, Hasanpur, was sent by alumni of the 1999 high school batch for the assistance of ₹ 35000 through WhatsApp group and An amount of ₹ 90000 was sent by alumni of various other batches. Many alumni who assisted had already done various kinds of assistance by Prime Minister Relief Fund, Chief Minister Relief Fund and other social organizations, but when these alumni came to know about the economic crisis of their school, they again started this campaign. The objective of each school is to "learn to come and go for service" by the alumni of Vidya Bharati Saraswati Shishu / Vidya Mandir.