Vidya Bharati E-content Workshop
Image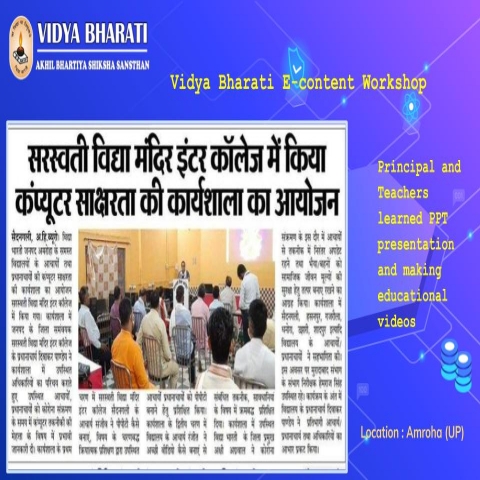 Image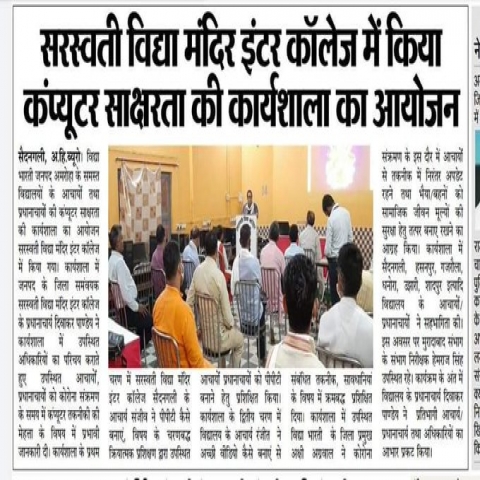 Image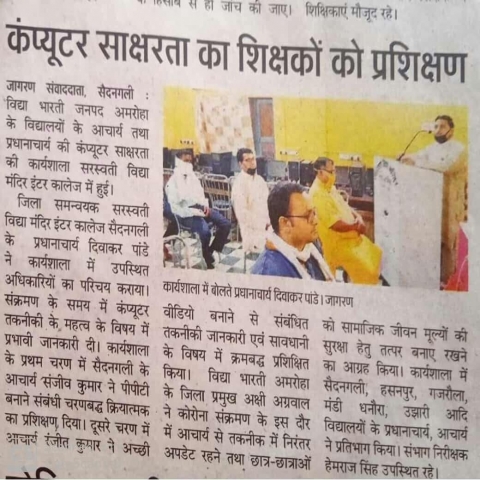 Image
Vidya Bharati E-content Workshop
Vidya Bharati - Principal and Teachers learned PPT presentation and making educational videos
On Wednesday, July 8, 2020, Saraswati Vidya Mandir affiliated by Vidya Bharati,  Saed-Nagli, Amroha, organized a one-day workshop to make online teaching of all 13 schools in Amroha district more effective, in which all Principal and Teachers made PPT presentation and Learned to make quality educational videos. Divisional Inspector - Sri  Hemraj Singh, District Head - Sri Akshi Agarwal, District Coordinator - Sri  Diwakar Pandey and Principal- Sri Brijgopal Yadav lit the lamp in front of mother Saraswati and launched the workshop.
 District head- Akshi Aggarwal said that future education will depend on subjects like- life skills and social concerns. In Vidya Bharati affiliated Shishu Mandir and Vidya Mandir schools, students are prepared not only for examinations but also for life challenges. District Coordinator- Sri Divakar Pandey told that online education is being done continuously in all Shishu Mandir and Vidya Mandir schools of Vidya Bharati in order to prevent the education of students in the event of school closure due to coronavirus epidemic. In order to improve the work, it is also necessary to achieve proficiency in computer and mobile technology.
In the workshop, Sri Mahesh, Principal of Dhanaura Vidya Mandir Sri Rakesh Agnihotri, Principal of Dhanaura Shishu Mandir, Sri Prabhashankar Tiwari, Principal of  Saed-Nagli Shishu Mandir, Principal Sri Ramkumar from Ujhari, Principal Sri  Rajendra from Shadpur, Principal from Dharwari Sri Akhilesh, Principal Sri Gajendra from Sugar Mill and highly respected Teachers and Students from all schools were present.